Massachusetts Official Yankee Doodle Town!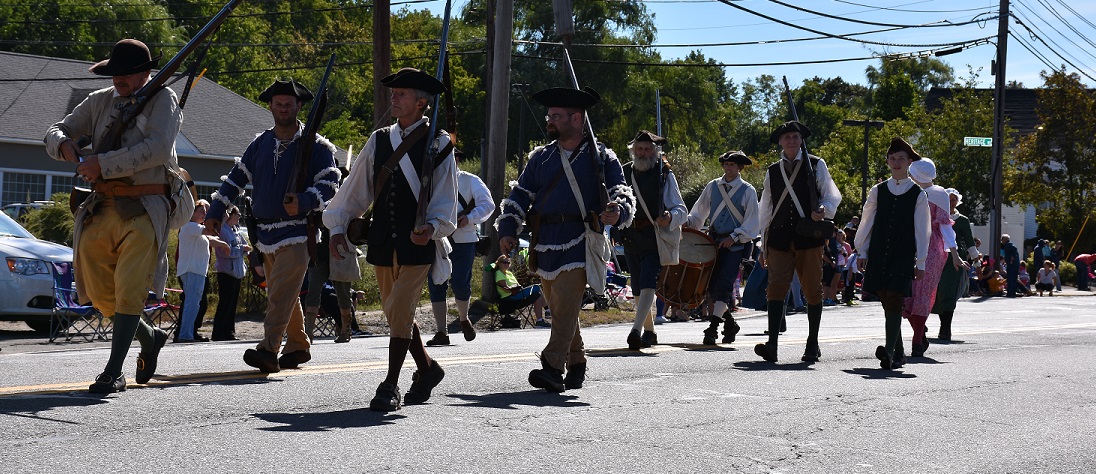 Every September the community of Billerica enthusiastically celebrates Yankee Doodle
Homecoming weekend. But tomorrow, Billerica will officially be named Massachusetts Yankee
Doodle Town. Members of our community are welcome to join our State Representative, Marc
Lombardo and Governor Charlie Baker for a community legislative bill signing which will be held
on the steps of the Billerica Public Library Tuesday, September 27th at 5pm.
Many people are familiar with the Yankee Doodle tune and the song's lyrics bring to mind a
colonial minuteman going to town with a feather in his cap. But there is much more of a rich
history directly relating this tune to Billerica. A song that was once used to mock the Americans
was turned around against the British and much of this has to do with a man named Thomas
Ditson Jr. who was a farmer who lived in Billerica.
Back in 1775 Thomas Ditson Jr., went to Boston to sell his vegetables and buy a musket. Ditson
met up with a British soldier who was going to sell him a musket. Ditson reported that he was
betrayed by the soldier, who instead took all his money and reported that Thomas Ditson Jr.
was buying arms and that he was trying to push the British soldier to desert and rebel against
the king. There was no trial or fine to be paid but instead Ditson was tarred, feathered and
paraded around the streets of Boston by members of the 47th regiment to the tune of Yankee
Doodle. The British used this song to make fun of the Americans. This cruel punishment of
tarring and feathering was used often by the British army as an unofficial form of punishment.
This terrible humiliation didn't sit well with the residents of Billerica. When their requests for
action to be taken against the British soldiers in the 47th regiment and their leader Colonel
Nesbit were ignored, they voted to train and arm minutemen to join the rebellion against the
king. Thomas Ditson Jr. was eager to join the minutemen and on April 18, 1775, after heeding
Paul Revere's famous warning, Ditson and the other minuteman marched from Billerica to
Merriman's corner in Concord, MA where they fought and won the battle against the British.
This battle in Concord is also known as Ditson's Revenge. The Americans turned things around
and the tune of Yankee Doodle that had been previously used to mock the colonists was now
being used against the British soldiers. A student at Harvard named Edward Bangs, who served
at Lexington as a minuteman, wrote a fifteen-verse American version that is far more well
known today.
It is no wonder that every September town officials, schools, civic organizations and residents in
Billerica join together to celebrate "Yankee Doodle Homecoming." It is a town-wide
celebration with a hometown parade, fireworks and a re-enactment performed by the Billerica
Colonial Minutemen. It is a weekend full of fun and celebration in our community.
So, mark your calendar and make sure to head to the steps of the Billerica Public Library
tomorrow Tuesday, September 27th at 5pm to join the excitement